Mixu: Designed by you
Gensler is a global architecture, design, and planning firm with 50 locations and more than 6,000 professionals networked across Asia, Europe, Australia, the Middle East, and the Americas. Founded in 1965, the firm serves more than 3,500 active clients in virtually every industry. Gensler designers strive to make the places people live, work, and play more inspiring, more resilient, and more impactful. Here, we speak with Daniel Stromborg, Product Development Design Director at Gensler, about the design process and inspiration for Mixu.
What provoked the concept for Mixu?
When we first kicked off the project with Arper, the goal was to create a plastic chair that would accommodate a wide range of contexts, from workplace to hospitality and lifestyle scenarios. Because of the sheer scale of Gensler, we have access to so many different design perspectives and voices, which we were able to leverage during the initial research phase of the project. We embarked on our research by interviewing design directors from 15 different practice areas across our firm about both their needs as well as their client's needs around the idea of the plastic chair. The feedback that we got back from the designers reflected a kind of ambivalence about plastic chairs. They come in a set number of colors, a set number of finishes and they could limit the creativity designers have when crafting an experience for their clients. There was a strong consensus amongst the participants that a plastic chair lacked both a sense of craftsmanship and humanistic qualities. In response, we realized we needed to create a chair that offered interior designers a degree of authorship and a sense of the human touch. With this in mind, we pivoted from the original design brief and cocreated a direction that focused upon accommodating customization.
What were some considerations that you had as designer working with Arper?
What was interesting about working with Arper on this project was all the products within the Arper portfolio are, more or less, part of a close knit family. In one way or another, they speak the same language, and this was a very important part of our design process. Diving into the vernacular of the Arper design language and understanding how to speak that language, was key in designing MIXU. The edge conditions, the overlapping geometry, the curvature, the nuanced angle of the seat, the way the connections are made, how things were engineered across different platforms – every design decision we made during development was, in some way, a reflection on Arper's work on design and curation.
What was the inspiration for the design?
In response to all the interviews we conducted, we found that what was really needed was a sense of authorship to the design. We knew we needed to create a design that would allow material and color flexibility with some degree of authorship to an interior designer or specifier. That feedback gave us the source of inspiration for Mixu, and ultimately helped guide us from concept to overall form to connections. What we created with Mixu was a chair that would allow designers to mix and match materials and colors – almost a kind of toolkit to play with. We believed this system would create a kind of authorship for both the client and the interior designer to allow them to specify the exact fit and finish for the chair and allow the broadest range of applications – from tech firms to hospitality, to homes and offices.
What are the different material options available in the Mixu system?
The components are available in five basic materials into a vast number of design solutions: wood, metal, plastic, leather and fabric upholstered. As we all know, each of these materials have their own connotation — wood is rich and warm, while plastic can be playful. An upholstered back with wood legs work great in more buttoned-up spaces, while metal legs with a plastic seat and back combo can be parlayed into cafes, breakout spaces, or other casual type spaces. The forethought of having a chair that would allow the mixing of any number of these in a way that would afford specifications across a vast number of scenarios.
How is sustainability featured in this design?
From the onset, we knew that designing for disassembly was going to be a major driver for Mixu. Even though we like to think our products will last forever, the reality is that people move, parts break, things change. We wanted to create something that could be taken apart with just a few screws and be fully broken down accordingly. The design then becomes more sustainable because it can be responsibly recycled or restored. This weighed heavily into how we designed and engineered the back to seat connection, as well as the wood leg to metal frame connection. We also considered the materials themselves and utilized post-industrial recycled plastic, FSC certified woods, and a robust and durable plastic that extends the life of the chair to reduce waste.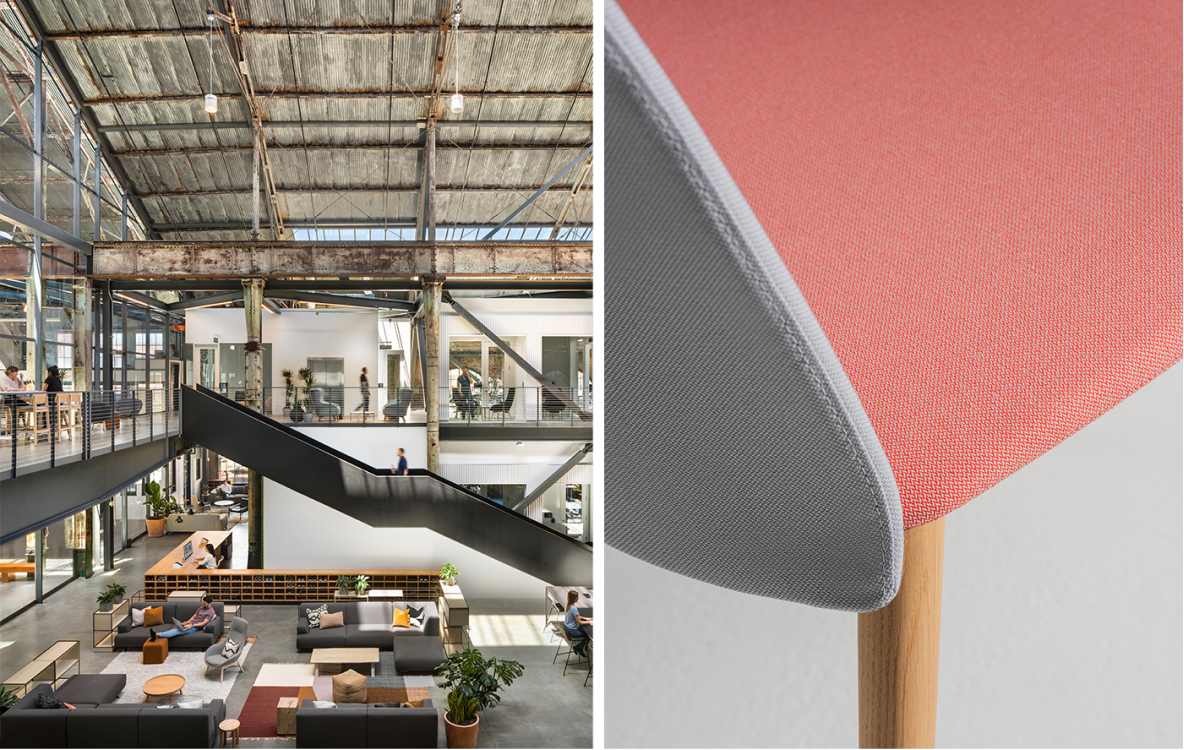 Why was using post-industrial recycled materials important to you in this design?
It was important for us to use post-industrial recycled materials in the design because it was the right thing to do. Focusing on post-industrial recycled materials allows us to focus on the REDUCE portion of the environmental mantra, "Reduce, Reuse, Recycle." Optimizing the materials sourced for the initial product back into production reduces the demand for more "virgin" materials and reducing the carbon footprint of the product. Ultimately, this also further aligns with our firm's Gensler Cities Climate Challenge (or GC3), which is our commitment to achieving carbon neutrality in all our work within a decade.
What was the inspiration for the silhouette of the chair?
We wanted to create a form that would integrate into the rest of the Arper collection. We were quite interested in the overlapping geometry that is present in many of Arper's designs, so we created a double curve that wraps around the seat and softens its edges. The curves create a quiet presence and atmosphere. To echo the overlapping geometries that are part of the visual vernacular of Arper, we designed a little overlap in the corner of the chair. It's the idea of perfect imperfection – not quite a perfect circle or rectangle, but rather, an almost ideal that lends a human sensibility to the design.