Interview with Noemi Blager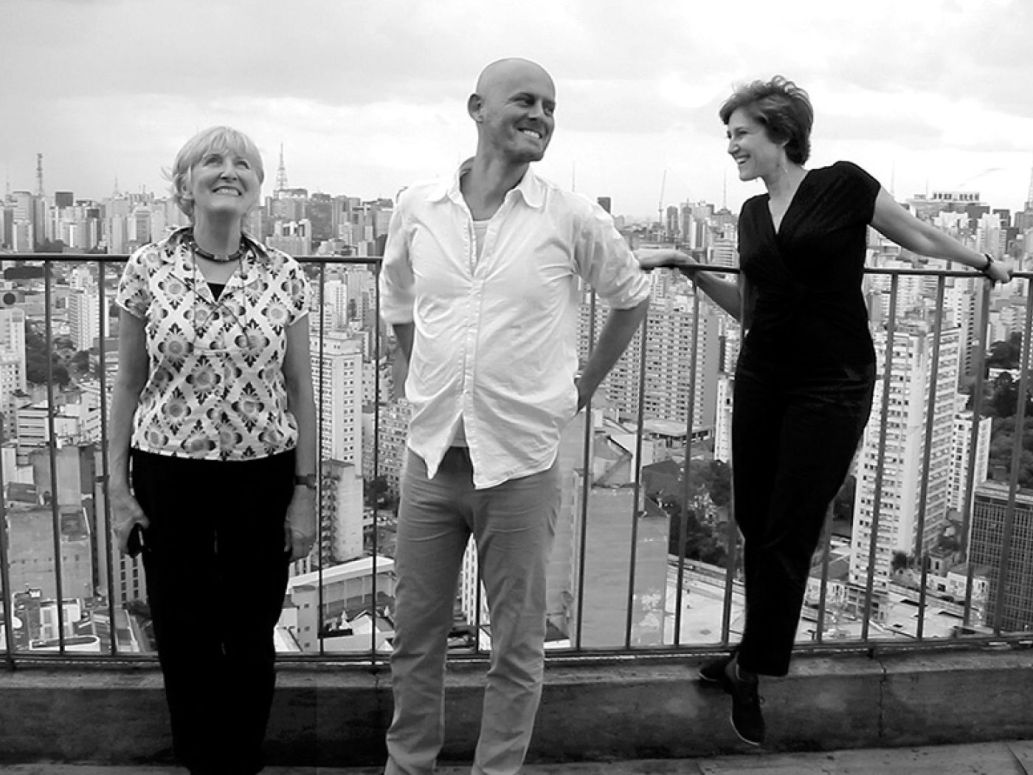 A conversation with Noemi Blager, curator of the travelling exhibition Lina Bo Bardi: Together, premiered in winter 2012 at the British Council Gallery in London and now on tour through Europe.
How did the Italian-born Lina Bo Bardi establish herself in Brazil?
Lina was born in 1914 in Rome. After graduating as an architect she moved to Milan where she worked with Gio Ponti and contributed to a number of publications. Lina embraced the values of the modern movement and saw architecture as a means to improve people's lives. But in the years of war she witnessed too much destruction and unfortunately never was able to build in Italy. After the war she was frustrated with the political situation in her native country.
In 1946, she married Pietro Bardi, an art dealer and journalist with whom she embarked to South America. In Brazil they met Assis Chateaubriand who invited Bardi to found and direct a museum of contemporary art that eventually became MASP, designed by Lina. This was an opportunity for Pietro and Lina to create innovative programs for an art museum. Lina was against the idea of museums as mausoleums of art and believed they should be life institutions, where people would come to contact with the arts and learn — without making a distinction between art with a capital "A" and art with lowercase "a." She fell in love with Brazil, its people, its culture, the Africanness of the country and the social aspects that make its people distinctive.
What was her philosophy towards architecture?
I find an interesting connection between Lina Bo Bardi and Jorge Luis Borges. With Borges "reading is writing" for it is the reader who completes the story and only then literature exists. Lina said that until man enters a building and takes possession of the space "in a human adventure that develops over time", architecture does not exist. In his writings Borges does not guide the reader with adjectives or descriptions, just essential narrative engaging the reader and allowing him or her to "create" his or her own story. Lina's architecture too is essential — an ingenious organization of space that gives way for people to complete it with their presence and activities. It is an empowering experience. Without people, architecture is incomplete.
How did you develop the idea for the exhibition?
When I discovered Lina Bo Bardi's work in Brazil, what most interested me was her approach as a European architect arriving in a new culture. She observed the local way of life — people's behavior and culture — and reflected this in her work. I wanted to communicate this attitude rather than just showing her buildings. I decided I wanted to do a form of reenactment, bringing the audience as close as possible to the experience of being in the spaces created by her.
To do this, I asked London based Finnish filmmaker Tapio Snellman to do a film installation where you can perceive the atmosphere of Lina's buildings in the city of São Paulo, with special focus on SESC. In SESC you can see people from all walks of life, doing all sorts of activities, from swimming to playing chess or learning embroidery. What Lina achieved here is a unique quality of space, which is at the same time public and domestic. There is an enormous living room, which despite its scale it has the intimacy of a domestic space. It is a form of public domesticity. I asked London based Dutch artist Madelon Vriesendorp, who has many common sensibilities as Lina, to contribute to the installation as a tribute to Lina.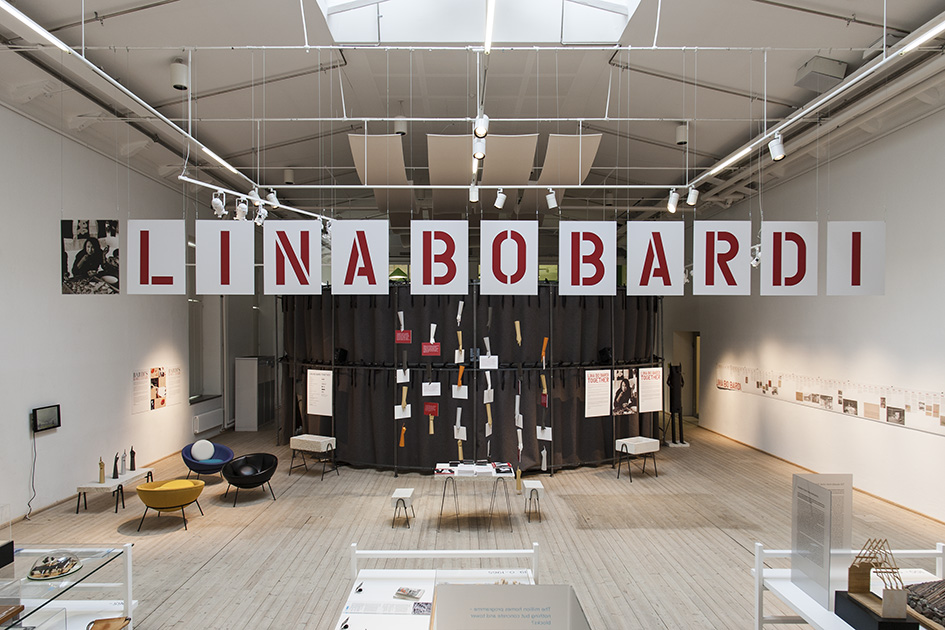 Madelon's approach was to work with the people of Brazil. So we organized a workshop at the Solar do Unhão, designed by Lina, where children of the local community made objects with recycled cardboard, guided by Madelon. She then combined these objects with local crafts and objects created by her.
The combination of the films and the artifacts in the setting designed for the exhibition creates a special atmosphere that we wanted to communicate.
Who designed the exhibition?
Assemble, a collective of architects, artists, and designers. They are a very creative team. They wanted to work on the project to learn about Lina Bo Bardi. One of the challenges was to create an exhibition that could be portable and adapt to open or indoor spaces. After showing at the British Council Gallery in London, the exhibition will go on tour to Vienna, Paris and other cities in Europe, America and beyond.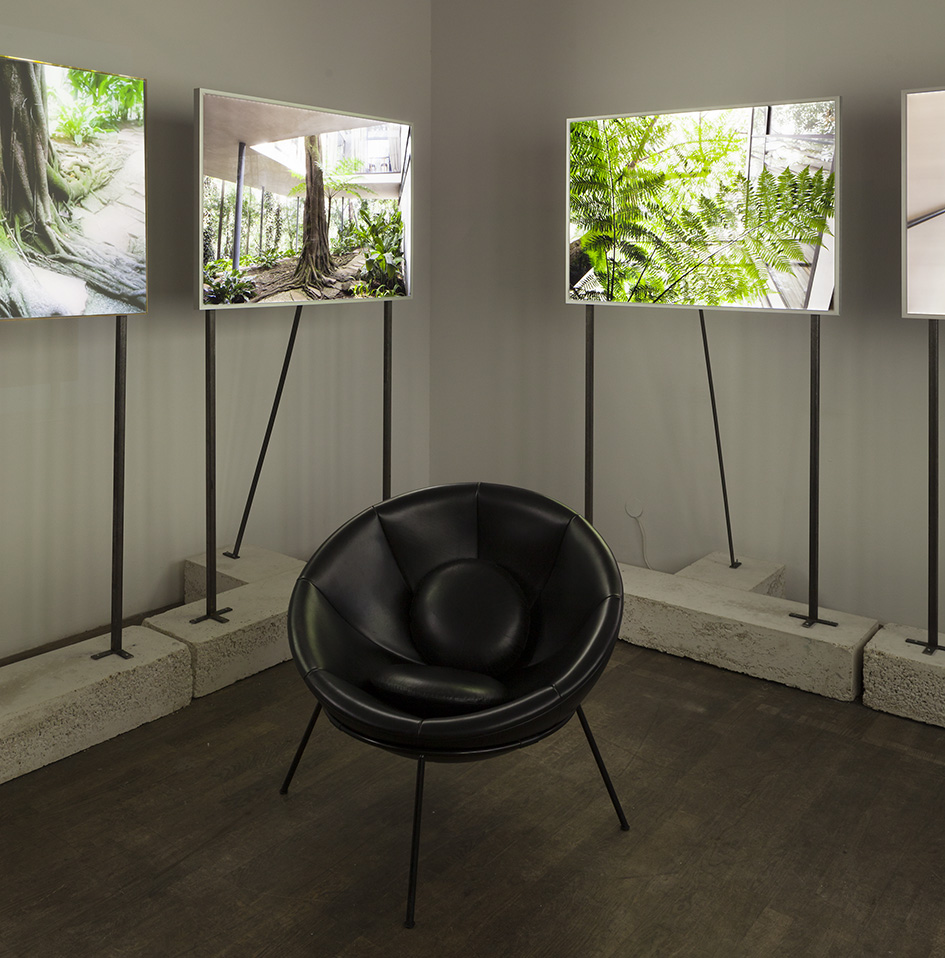 How is Arper involved?
Arper shares many of Lina's core values that are fundamentally humanistic. Her concept of culture was about life, about being in touch with the people and with nature. Arper is contributing to raise awareness of Bo Bardi's work. Arper is not only supporting the exhibition, they are exploring Lina's design ideas by doing an edition of the Bowl Chair that she designed in 1951 that was never produced industrially. This exercise will result in a limited edition.