Lightweight Strength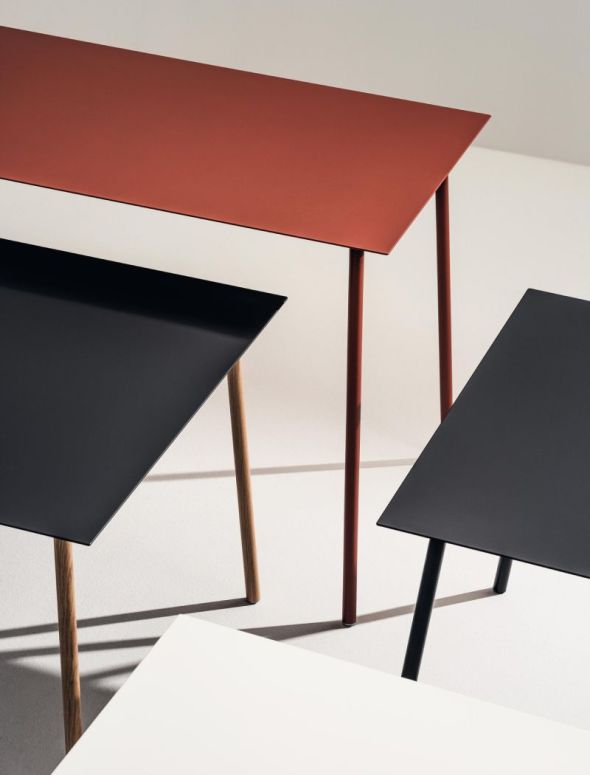 How does Onemm reimagine the table as a typology?
Most tables typically consist of a frame and a heavy plate that sits on top of it. Instead, Onemm really plays with the idea of lightness: a single bended steel sheet forms the top and bottom of the plate, the four legs are very light and sleek, and the five parts are simply screwed together. The bended steel plate is just a fine line, like a drawing, and it's remarkably thin—the entire table top is only 4 mm thick. This minimal profile is quite different than the archetype of the traditional solid, weighty table, and it's surprising to discover exactly how thin it actually is. Though large, it's also absolutely stable. Thanks to its lightness, it's an object that can easily be moved around a room or to another setting, and assembled in few minutes without tools.
---
What was the inspiration behind Onemm's minimal form?
I'm an architect and a purist. I like to minimize all things. I've long been drawn to the idea of monocoque (single-shell) construction, which is used to create automobiles and airplanes that are extremely strong but also lightweight. A folded paper plane or an origami figure are mysterious and incredible because their forms are both minimalist and yet highly functional. The concept for the table came from my fascination with this kind of structural de-materialization. Reduction is also very important to me in architecture, for example the lightness and brightness of many modern Japanese buildings. I'm a fan of Jean Prouvé, the French architect and designer of the twentieth century, who applied a very reductionist aesthetic and non-traditional materials, like metal, to make domestic furniture. Similarly, I like the work of minimalist artists like Donald Judd or James Turrell, and in a way, the table is also like a piece of minimal art.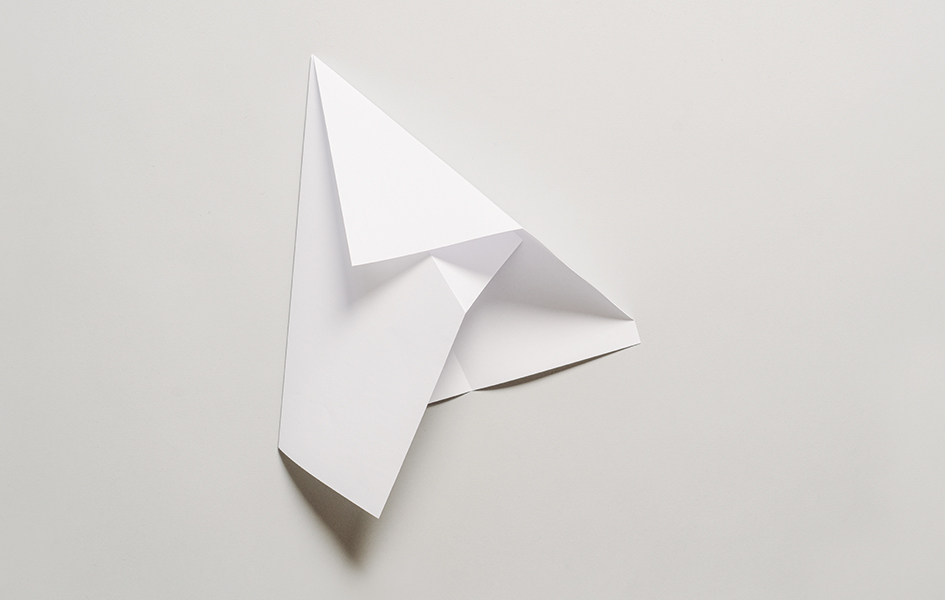 What was the process of developing the ultra-thin form?
Once I arrived at the origami-inspired idea of folding the steel sheet, I needed to perfect the monocoque technique. I created several prototypes, and at the beginning it was a challenge to make the table stable, and to locate where the critical structural points were. Working in collaboration with a locksmith and an engineer, we were able to identify which areas to refine more precisely. Once we established the structural stability, it was a matter of reducing the form as much as possible. What makes it such a successful design is that the table uses the absolute minimum of material required to achieve stability, while maintaining a very clear and crisp line.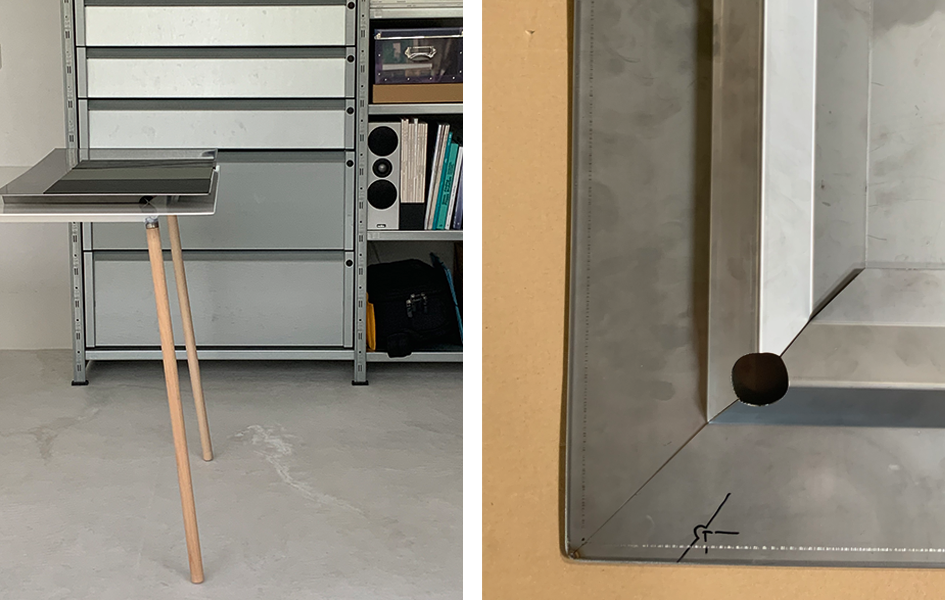 How does the collection find harmony with different settings?
It's a design that will find use as an office table in creative spaces such as architecture or design studios, or in workplace canteens. But it can also fit perfectly in a private home as a dining table, or as a home office desk. In fact, with the pandemic, a lot of people were looking for a light table to have a home office. The white-painted tabletop with the wooden legs evokes a very light Nordic or Japanese style of interior. The black-on-black option will appeal to the architects and designers or the creatives to use in places with a lot of light. The more colorful red finish speaks to trends in interior spaces. While it may sometimes be difficult to match a wooden table with a wooden floor, the painted colors of the metal Onemm table allow for a more elegant and expressive combination of materials within a space. Metal is not a typical material for a dining table, but the properties of Onemm's construction actually make it ideal for this kind of domestic setting. Because it's so thin, it can adapt to find stability even on floors that aren't level. With its monocoque construction, it's also sound absorbing, meaning a glass or a dish can be placed on the surface silently.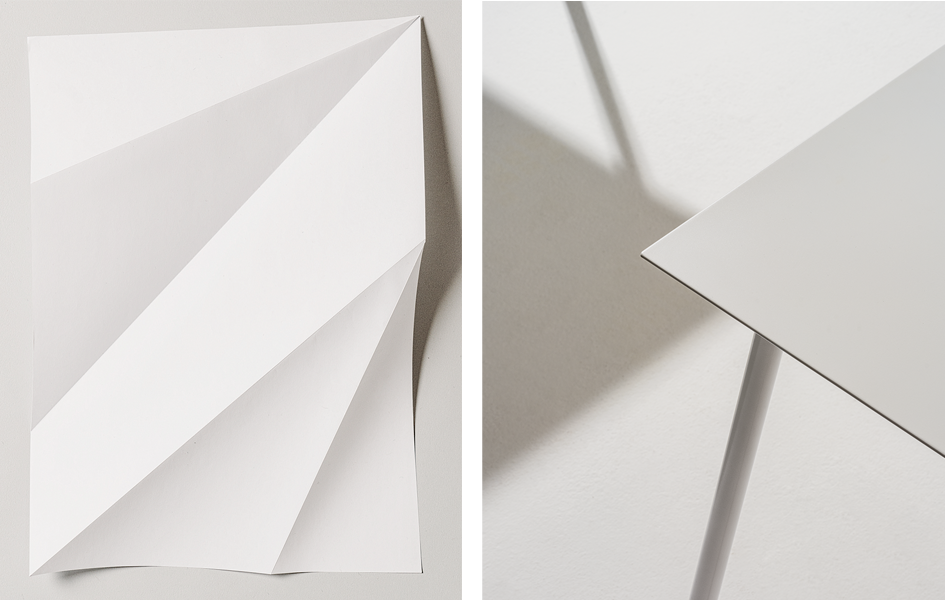 Are there any sustainability features designed into the collection?
Using minimal and recyclable materials really shaped our thinking. With the monocoque construction, we were able to create a stable form while reducing the amount of raw material necessary. Onemm also comes with a wooden leg option made from sustainably harvested European oak that can separate from the steel so it's very easy to recycle the metal. The table is designed to be flat-packed to reduce the environmental impact of its transportation. Because it's so lightweight and has a small shipping footprint, it consumes fewer resources.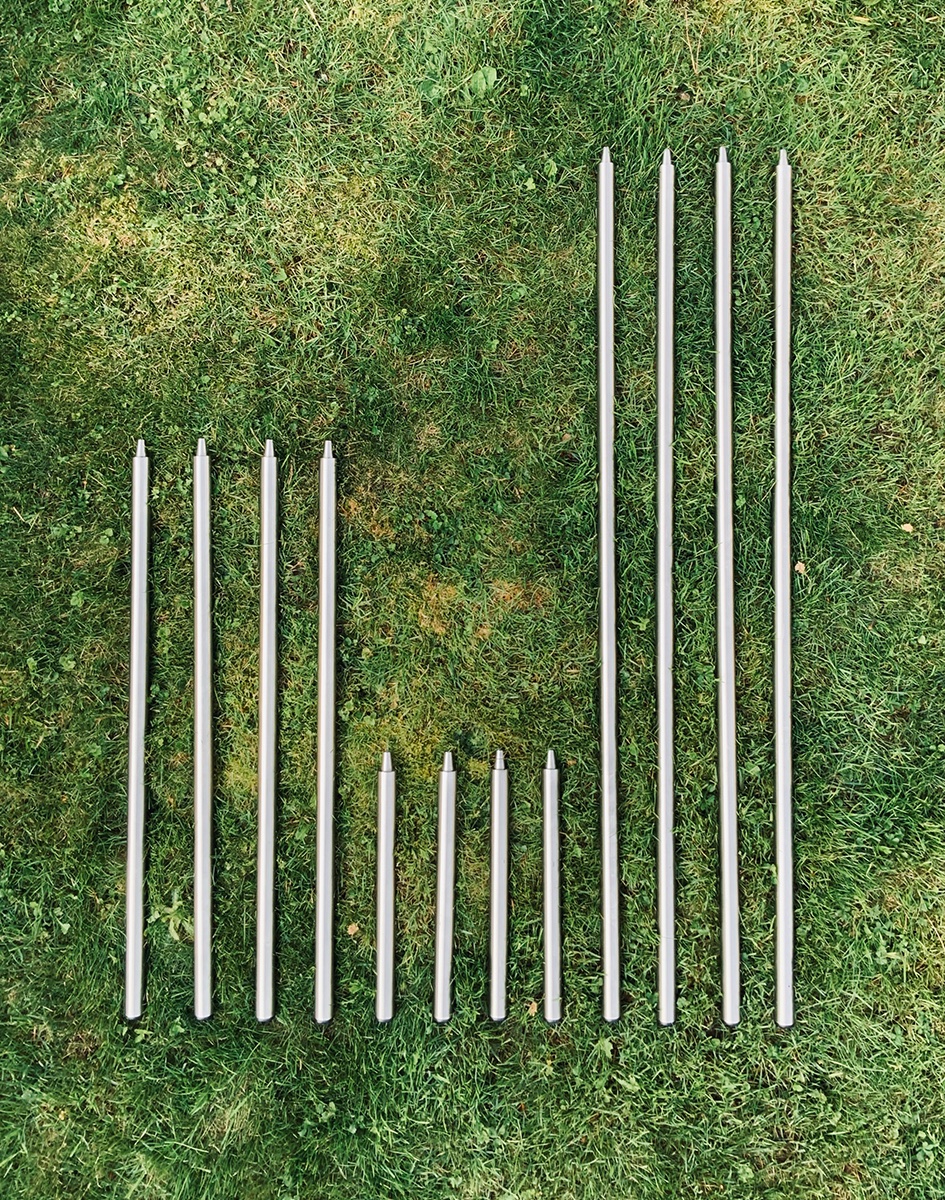 How does Onemm fit in with Arper's design language?
For me as an architect in Switzerland, Arper is very well known for its Catifa chair; it's a very simple design and yet one that is quite unique. That was the goal I had for my table, to achieve that same simplicity and lightness. All the chairs by Arper fit perfectly with Onemm because the table is very subdued and has an ageless form. Arper shares my view that furniture should be stable, timeless, light, and use a minimum of material.
Peter Kunz has been working as an architect in Switzerland for over 30 years. He focuses on both residential and contract settings. Peter started his architecture firm in 1991. The decision to work on architectural projects with a small team of 8 architects has become integral part of the firm's philosophy and has characterized its structure since its inception. This approach has characterized all of Peter's ventures. In 2014, he co-founded Strut Architekten AG with two partners.